[*]
Introduction
Globalization is commonly understood, along with regionalization, as an economic phenomenon that hastened the decline of national economies through the creation of transnational spaces, the set up of regulations and economic policies across national boundaries and the mobility of production factors. Culturally speaking, it comes as a variable-geometry paradigm that brings ways of life and thoughts to standardize and especially which tends to consider cultural goods and services as economically profitable as typical commercial products. In response to this dynamic, France defends the concept of bcultural exceptionb, which seeks to maintain a non-commercial cadre for cultural production.
However, globalization can also be understood as valorizing the recognition of cultural differences. The movement of artists and their work worldwide is an opportunity for them to share experience, enrich themselves mutually and renew their ideas. In that way, mobility becomes a key to the realization of cultural diversity.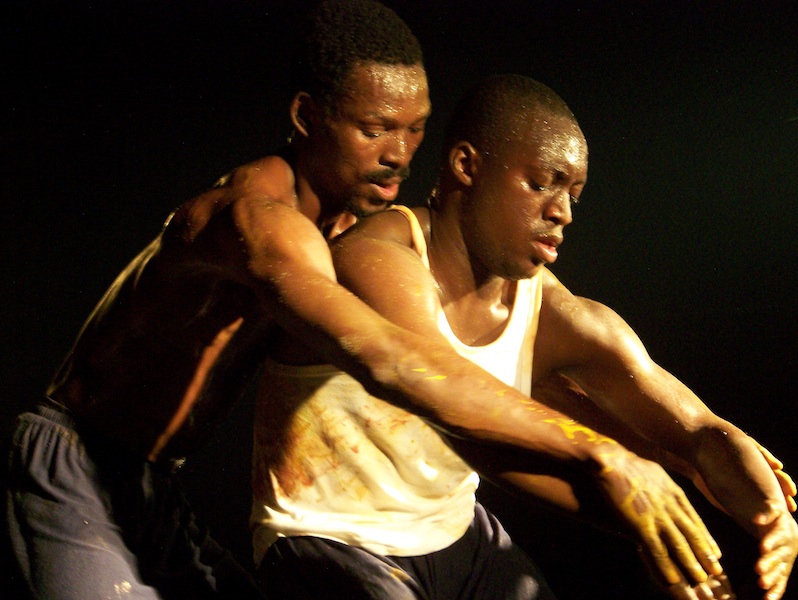 Dance show Traces choreographed by Auguste Ouédraogo and Bienvenue Bazié in 2006/2007. Picture by Nestor Da.
Travelling is an imperative for artists as it provides them with the opportunity to present their work and therefore to develop their professional careers. Yet African artists face a blockage of their mobility because of increasingly harsh immigration policies on the part of Western countries.
I would like to question here the political logics at work at the international and national levels that regulate the movement of goods and people in the broad sense of the term, the sometimes contradictory practices on the ground and the reflection both political leaders and civil society in Europe engaged in order to address the phenomenon.
Movement spaces as evidence of a political will
The plurality of institutions and regulations dedicated to mobility indisputably show proof that political leaders strive to promote the mobility of goods and people worldwide. International laws like the Universal Declaration of Human Rights and the UNESCO Universal Declaration on Cultural Diversity state the right for people to go and come as freely as they please. At the regional level, organizations for integration set up a certain number of rules so as to facilitate the movement of nationals from member countries, like the Schengen space within the EU (European Union) and that within the Ecowas (Economic Community of West African States). Many a mobility tools were put in place both at multilateral and bilateral levels. Examples include grants for training, residencies or creation, programs (Ateliers du Monde and Visas Pour la Création by Institut Français, the UE-ACP program bCrossing Borders b Connecting Cultures: traverser les frontières, connecter les culturesb, data bases (Internet websites, On the Move-The performing arts travellerbs toolkit), agreements and organizations (Relais Culture Europe, Organisation Internationale de la Francophonie (OIF), Office National de Diffusion Artistique (ONDA), Informal European Theatre Meeting (IETM), Roberto Cimetta Fund, Arts Moves Africa (AMA), Arterial Network, Young Arab Theatre Fund (YATF), etc.)
An imposed African mobility or the paradox of the practices

Dance show Dans Un SbY Mettre choreographed by Auguste Ouédraogo and Bienvenue Bazié in 2009/2010. Picture by Nestor Da.
Despite the measures noted above, which exemplify a clear political intent to permit goods and people to travel easily, the practices at work, mainly in the artistic and cultural domain, constrict the mobility of African artists to a tight airlock. With the increase in power of migratory flows on the part of Africans who toy with the idea of making their fortune in the Western El Dorado, African artists are frequently treated as presumed illegal immigrants.
This can be seen, for example, in French consulates where people asking for visas are reserved inhuman and humiliating treatments. While visa appointments considerably take time, visa requests are sometimes refused with no motivated reason and the experience has revealed many African artists who were forced to play their instruments or to dance before passing the border.
Virginie Dupray, administrator for Studios Kabako, shared this testimony in 2010:
"We have just been refused three visas for Great-Britain where we are performing on the 9th of October at festival Umbrella. We introduced in Kinshasa three previous applications which were accepted and the three following ones, including that of Faustin Linyekula, were refused while we submitted the same materials. [...] The motive for the refusal is the absence of justifying documents for the announced incomes, that is bank statements, while in Congo, less than 5% of the population have a bank account and in Kisangani, the first bank only opened a year ago. And it is the third city of the country!.... [1]
The French cultural magazine Les Inrockuptibles qualifies this immigration policy as both ubuesque and Kafkaesque.
"It is ubuesque if we consider the systematic and arbitrary side behind the denial of visas to artists invited in France, the humiliating treatment they must endure, the cost of refused visas and lost air tickets, the time spent by artists and programmers to find another person likely to intervene in case of refusal. It is Kafkaesque in the sense that the documents to be provided are in the hands of consulates and change on a case-by-case basis, thus bringing artists and programmers to spend most of their time addressing visa issues." [2]
The situation is all the more alarming since practices are irrational as Marie-Agnès Sevestre, Director of Francophonies en Limousin, explained to journalist Fabienne Arvers in 2010:
"We were obliged to send someone to Roissy with the work contracts to help out the company of Congolese choreographer Didier Ediho, as the border police suspected them of having fraudulently obtained their visas. Often, visas are given while almost in the plane, in the last minute, following a whole series of humiliations. We also invited Jean-Pierre Guingané, from Théâtre de la Fraternité in Ouagadougou, for a debate of African artists on the topic: the artists at the time of Independence. He is a sixty-year-old man who has taught generations of artists in Burkina Faso and who often comes to France on three-year multiple-entry visas. This time, the Consulate of France in Ouagadougou treated him like a sixteen-year-old kid who intends to flee and so he told me: 'it is so humiliating that I wonbt come' ". [3]
Are there reasons to mix African artists with illegal immigrants?
There are facts which seem to legitimate suspicion on the part of European immigration officers. In fact, there are shady individuals who make profit of travel opportunities made available to artists to take their heels once in Europe. The well-known Papa Wemba case seemed to confirm French and Belgian authorities in their position and justified the mixing they make between the mobility of artists and immigration policies. Indeed, Shungu Wembadio Pene Kikumba, his real name, was suspected of having helped at least 300 Congolese people to illegally enter France and Belgium as musicians of his band Viva la Musica. He was then sentenced on the 16th of November 2004 by the Court of Bobigny to thirty months of imprisonment and a 10.000 Euros fine for providing help for irregular stay of illegal people under the cover of his musical activities. [4]
Whether it is well-founded or not, the explanation given by Lilo Miango, initiator of the media for music in Democratic Republic of Congo, brings to light another side of the issue. He believes, as far as he is concerned, that Papa Wemba was naïve to not denounce the touring agents or producers who forced him and other singers to illegally fly their artists with the sole purpose of avoiding fiscal and social charges. [5]
The pernicious effects of the mixing
Yet, these examples of intentional fraud remain isolated and insignificant cases as compared to the great majority of artists engaged in a professional career. In the end, a tendency for European professionals to resign themselves to only schedule Europe-based artists is becoming apparent. The increasing difficulty of obtaining visas for African artists leads to a rise in the number of people staying in Europe illegally, since they are no longer sure of being given the opportunity to return and work in Europe. Addressing the topic, Christine Semba, Director of Zone Franche, a professional network for world music, tells this story of a female Cuban artist:
"I know of this example [...] of a Colombian band. One person of the group was Cuban and lived in Colombia. And this group toured several times to Europe via Spain [...amp;]. And after two tours for which obtaining the visa for the Cuban artist was extremely, extremely, complicated, the third time, the manager of the group was really in the need of engaging a lawyer. It is because he really engaged in the request of the visa that the person received the visa in the last minute. They toured to Europe; then they were to go back via Madrid. The day before the departure, this musician went to see the manager to tell him blook, you saw how difficult it was to get the visa; I know it is my last chance to stay in Europe. So, I am sorry but I wonbt go home. I am going illegal as of tomorrow" b. [6]
The abdication of Africans
In Europe and particularly in France, civil society has begun to debate over the increasing difficulty for Artists to travel. Zone Franche put up in place in 2010 a committee called Visas Artistes. This committee bgives advice to professionals of performing arts as of their visa applications and lays pressure over the Ministry of Foreign Affairs in case of freezingb. [7]
Since 2000, European governments b including France, The Netherlands and Norway b and the European Union itself have made efforts to address the mobility of artists. For example, the French Ministry of Culture and Communication and the European Parliament commissioned studies, works and reports, which give insight into the constraints - rules, practices, methods and gaps - related to the mobility of artists as a whole. [8]
However, the apparent rising mistreatment of African artists cannot silence the piercing laxness of African artists themselves and of African political leaders. The artists fail to gather as a pressure group to demand that their local political leaders take action on their behalf. The State of Senegal gave the pitch by taking retaliative measures in January 2013 in such a way that starting from July 1st visa seekers from countries demanding Senegalese travelers a visa will now need one to enter Senegal. [9]
Conclusion
Eventually, it cannot be objected the will of political leaders to support the free movement of goods and people globally and regionally. Evidence is backed up by the international laws and mobility tools.
But, the practices on the ground somehow contradict this political will. With increasingly harsh immigration policies, Western countries have lost sight of the necessity for artists to travel easily in order to present their work. Thus, artists, and especially those from the African continent, have become the collateral victims of immigration policies. [10]
To address this matter, civil society, in Africa and in Europe, must play a key role in laying pressure on political powers to handle the mobility of artists from a cultural perspective and not as an immigration issue. In short, there must be "Visas for artists" as claims Burkinabe choreographer Seydou Boro in his one-reeler "Visas", which he produced in 2004 in Cameroon. [11]
__
[*]I would like to thank my friend Lila Ann M. Dodge for her invaluable contribution to this article.
FRANCOIS BOUDA is Communication Assistant for Centre de Développement Chorégraphique La Termitière (CDé and Administrator for Compagnie Auguste-Bienvenue.
---
[1]
Fabienne Arvers, «
Refus de visas pour les artistes africains: une situation ubuesque
», Les Inrocks, Septembre 25, 2010
http://www.lesinrocks.com/2010/09/25/actualite/refus-de-visas-pour-les-artistes-africains-une-situation-ubuesque-1125453/
[2]
Fabienne Arvers,
Idem
[3]
Fabienne Arvers,
Idem
[4]
Afrik.com, 
«
Papa Wemba sous les verrous
»
,
February 21, 2003
http://www.afrik.com/article5716.html
[5]
Afrik.com,
Idem
[6]
Florence Pacaud, 
«
Des artistes mal venus
»
,
France Culture, November 25, 2011
http://www.franceculture.fr/2011-11-25-des-artistes-mal-venus
[7]
Florence Pacaud,
Idem
[8]
Lukacs Anaïs,
L'accueil en France des artistes étrangers du spectacle vivant : une possible amélioration des modalités?
, Mémoire de Master professionnel 
«
Développement culturel et direction de projet
»
, Université de Lyon 2 - Faculté dbanthropologie et de sociologie, 2007, 104 p.
http://socio.univ-lyon2.fr/IMG/pdf/LUKACSAnais_Mem07.pdf
Zone Franche
, «B La circulation des artistes : quelles solutions pour les professionnels?
»
, debate organized by the network for world music, Zone Franche, April 8, 2009
at Lavoir Moderne Parisien
http://www.zonefranche.com/details-actus-zf.php?id_news=946
[9]
Ndeye Khady Lo, 
«
VisaB : C partir de juillet 2013, le Sénégal appliquera la réciprocité
»
, Slate Afrique, 2013
http://blog.slateafrique.com/nangadef-senegal/2012/12/04/visa-a-partir-de-juillet-2013-le-senegal-appliquera-la-reciprocite/
Mehdi Ba, 
«
Sénégal: réciprocité des visas, même tarif pour tous
»,
 Jeune Afrique, July 1, 2013
http://www.jeuneafrique.com/Article/JA2737p038-039.xml0/france-usa-senegal-italiesenegal-reciprocite-des-visas-meme-tarif-pour-tous.html
[10]
Le Monde.fr, 
«
VISA - Les artistes africains ont de plus en plus de mal C venir en France (
«
Les Inrockuptibles
»)
, September 27, 2010
http://bigbrowser.blog.lemonde.fr/2010/09/27/visa-les-artistes-africains-ont-de-plus-en-plus-de-mal-a-venir-en-france-les-inrockuptibles/
[11]
Seydou Boro, 
«
Visas», one-reeler, 7 min 48 s, Zéli Production-Méka, 2004